Elephant encounters a storm and memories of a day in the bush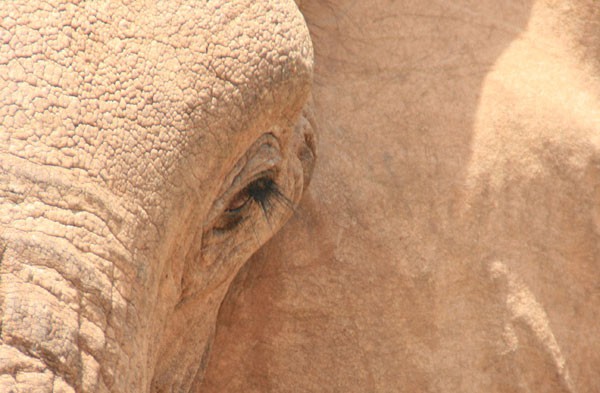 it was an early morning last April in the fabulous East African rainy season. Sun was shining, I had my lunch packed and both Sorovina and I were in good spirits! I love those early mornings in the bush. The colors...the scents, sounds....the fresh soft morning breeze through my hair when we slowly drive through the bush.
We are getting close to my favorite spot in the river when we watch a huge herd of elephants on Buffalo Spring side! As we both love elephants so much we stop the engine of the jeep and stay to watch. So peaceful all these mama's and baby's...Than I see one of the ladies glancing at our jeep. She looks very concentrated such an intense look. Am I imagining things? No...she is slowly making her way to the jeep. She looks almost as if she wants to say: ' is that you my old friend?' We watch her approach...this is an area where Ian Douglas hamilton is and has been doing lots of elephant research so she might mistake us with one of her ' Save the elephants' friends. We watch in awe till she is standing by the car her gentile eyes looking at us- we can almost touch her! She than softly puts her trunk on the hood of the jeep, still looking at us...so serene and peaceful. It takes our breath away..! I have to capture this moment and take a picture of that wonderful face and those sweet amber eyes with the long black lashes. Than we watch her slowly proceeding her way into the bush in the direction of the river...What bliss....what an awesome experience...we are both speechless…
As we are still awatting the first rains the wide river bed is still dry. big holes here and there made by elephants looking for water, but used by all kinds of other animals looking for water. Time for lunch!! I just LOVE this place by the riverbed under the doom palms....so peaceful. Sorovina and I pack out the lunch and set the table...We enjoy a superb cold Italian lunch by the river....the breeze through the trees. What utter BLISS! the elephants we first saw an hour ago now approaching the river we can see them coming in from the other side. All those mama's and baby's...I just love those quiet moments by the river bed just listening to the sounds of the bush...time drifting by...garden of Eden....Blis…. But...we have to get back. So we pack up and slowly drive by the side of the river....I always find it hard to leave. So when we get closer to the elephant herd in the bed I said to Sorovina lets just watch them kidogo- a little more!! Than all of a sudden....Elephants trumpetting!! Panic...Mama's making a circle baby's in the middle?!! WHAT is going on?!! I see nothing, hear nothing? Am puzzled But than look to my right to Sorovina and see what this is about. The sky is BLACK! HUGE storm coming in!! From one minute to the other I see Palmtrees bending over like they are small sticks!! Huge branches flying around our jeep like they are twigs!! I look at the elephant herd now storming out of the river bed to the other side. Babboons also going haywire! Within seconds the storms is here!! I watch this huge display of elements in awe!! Loving every second of it...wow! I dont even notice Sorivina has gotten out of the jeep to cover the sides to shelter us from the gushing rains...Than a door slams and I look into Sorovina's face....eyes wide open.....just gesturing me to look to my left?! I look and my heart stops...A young bull we had seen going into the bushes earlier from the river is trying to find his way back in his pannick....And we are totally in the way! His angry face is in my back mirror- it is split seconds but it feels like he is moving in slow motion! Looking at me furiously!! I remember thinking I am toast...Dont move Monic!! Luckily our engine is not running...so we should not be a threat to him....We look at each other....His eyes....I will never forget the anger in them!! Than he shakes his head and I know what that means; OK dont ever stand in my way again!! and he is off….Phew! I watch his big buttocks move while he runs into the steep river bed his eard flapping....Than look at Sorovina....we look at each other....we know one another so well...we burst out in loud laughter!!! I say to him maope sotua (lets go friend in Maa). We make a hasty retreat away from this river in the storm. We rather get wet than in be in the way of another animal in hasty retreat?! Away from the river in the torrenting storm and rains Sorovina gets out to take down the sides for our shelter. I am enjoying every minute of this huge display of elements...so powerful...so beautiful!! We have to cross several lugga's (river beds) on our way home where we have to test the water level before we can drive through. On the last bit up the mountain to the lodge a small ray of sunlight shines through the clouds. When we reach the lodge the sun is out....looking out over the bush the sounds the smells of the fresh rains the peace....as if nothing had happened at all. We sit down by the fire...glass of wine....I remenisce what a perfect ending of a perfect day!!
This story happened to me in Kenya on my way to South Africa and NAmibia. If you like to see pictures of another amazing visit to Namibia pls go to my Facebook!! and have a look at my the Namibian album!!
«
Next post
|
Back to listing
|